Raleigh's Top Rated
Jewelry, Coin & Diamond Buyer
No Appointments Needed
Mon – Sat | 10 AM – 4 PM

Home to state-of-the-art X-ray technology that allows us to be more accurate with precious metal content while minimizing client and buyer radiation exposure compared to our competitors


We make generous, easy to understand offers and our process is simple.

A+ Rated and Accredited by the Better Business Bureau since 2008.  Zero Complaints.

Top Rated Buyer in Raleigh with over 1,200 Five Star reviews on Google, Yahoo, Yelp etc.

Interviewed by ABC, NBC, News 14, and WRAL. 

We are Raleigh's most trusted jewelry buying professionals.

We are a locally owned, family operated business with a verifiable 12-year local history.

Our buyers are (GIA) educated and have City of Raleigh Precious Metals Permits.

We are not a pawn shop or a "We Buy Gold" company.  We specialize in jewelry.

We offer FREE JEWELRY REPAIR and APPRAISALS to ALL our clients. Ask us for details.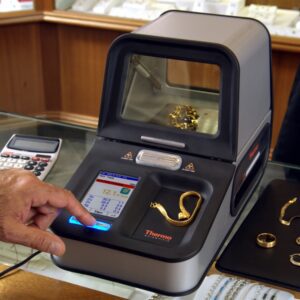 Lee Cannon
We had a great experience with Raleigh Diamond! The staff members were very helpful and attentive. We made a really small purchase and they still gave us five-star service! They took really good care of us. Heather Anderson
Excellent place! Very clean, spacious, with curteous staff. I LOVE the giant chandelier in the middle of the room! I came in order to sell a bracelet and i feel I got a fair price. I had my young daughter with me and the gentleman who I dealt with was absolutely wonderful with her! I would highly recommend this place to anyone looking for beautiful jewelry or in need of selling their gold. Brian Holder
I had a great experience. The employees were friendly, attentive and knowledgeable. I highly recommend. Melissa Hall
Fantastic service! Had a wonderful experience with the gentleman who helped me sell some diamonds here. Associate was extremely knowledgeable and educated regarding current GIA diamond standards and helped me make an informed decision regarding my valuables. THANK YOU!!! Beautiful store, highly recommended!